PRESENT | blog
A Short Comedic Film by Craig Anderl and Robert Studer.
BEAR THE BURDEN is a story of a disenfranchised family who have been displaced from their home. The story follows their interactions with loggers, conservation officers and garbage.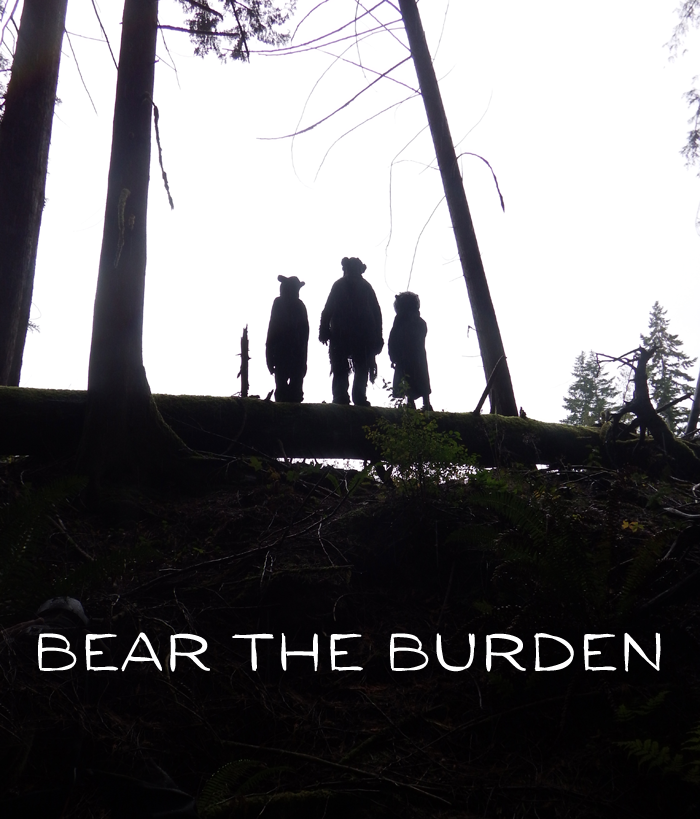 The video was commission by the theater group, The Only Animal, whose mandate rises from a deep engagement with place.  Both The Only Animal and this is it. design have chosen the Sunshine Coast as their home and were inspired to respond in a meaningful way to the current habitat displacement from old growth forest logging on the Southern Coast of British Columbia.
"The bigger picture is about advocating for an expansion to the postage stamp size Elphinstone Provincial Park which is only 150 hectares in size." says Studer. "A park ten times that size will create a needed buffer between the Coast's growing population and security for the wildlife. When trees are logged, the trouble begins. Bears pay the price with their lives, and tourists don't come to visit clear cuts."
Shot from the hip and aimed at your funny bone, everything from the set building and shooting of the video took place within a 7 hour time span on a day of heavy rain. Filmed predominantly in Studer's back yard in Roberts Creek, BC, and commandeering friends and family, this film will not be up for an Oscar. It is nonetheless, a highly creative testament on how a community can have a lot of fun working together to address important issues that are of concern to us all. From the environment, to refugees, Bear the Burden's message is universal in its significance.
Take a peek, have a chuckle and share it if you like it.
Film Launch Event:  A Gathering of Giants,  October 24, 2015.
Location: this is it. design studio, Roberts Creek,  BC
What happens when you invite a coastal community together to watch the premier of several local films in an artist's studio in the middle of the forest? Nothing less than magic. First off, everybody brings food, a feast for 80 guests. Next, mixologist, David Mott, from Brandywine.ca designs a powerfully refreshing drink, the ELFIE, specific to the event. Once everybody was sufficiently satiated, words are spoken, people are honored, the lights go down and the movies begin.

It was an evening to recognize the giants within our community and to stand up for the giants of our old-growth forests. Art, music and film were the magic to guide the way.  In support of the expanded Mt Elphinstone Provincial Park, A Gathering of Giants was a collaboration between this is it. design, the forest watch group, Elphinstone Logging Focus, and The Only Animal. Their work is important and their websites are worth a visit.